Thank you, Danny and Niki, for taking our dream home from concept, to paper, to reality. It was such a pleasure to work with you and all involved with Second Generation. From day one, it was evident your goal was not just to build another house but to build a home that we could begin filling with new memories of family and friends. Danny's eye for detail and attention to what our vision was for our new home was incredible. We could tell Danny took great pride in making sure our home was built to stand the test of time, from foundation, to framing, to finishes. We have been asked often would you use your builder again; and every time our answer has been, "absolutely!"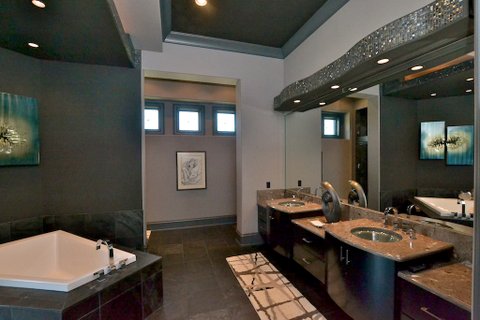 ``Statistically, a house is the single largest purchase an American family ever makes. With such purchase comes all the excitement, anxiety, and responsibility of making sure you are getting the most for your money. It can be tough enough to make such a decision with an existing home that is already built, however it is a leap of faith to feel comfortable placing your entire trust into a general contractor that will take your dream from a mere blueprint staked on a vacant lot into a structure that will provide stability to your children and their growth. Approximately three years ago our family went looking for the builder where we would place such faith.
As part of our due diligence we had a series of scheduled interviews with several builders. Each builder was going to be briefed on our plan and allowed to convince us why they were the perfect builder to be awarded our trust. Fortunately for us, but unfortunately for several other builders, we didn't make it past our first interview.
Three years after that one and only interview, we are absolutely in love our home, custom built by Second Generation Construction, Inc. under the leadership of its owner Danny Guy. It is incredibly difficult to capture all the positive things I can say about Danny & his wife Niki in one short article. From start to finish, the home building process is a long and often frustrating process. So many decisions, so many moving parts, and so many months watching your dream home grow from foundation, framing, to interior and exterior finish. It's due to that extended length of time that you are aligned with your builder that the relationship is even more important. With Danny and Niki the relationship is effortless due to one very simple reason – they build your home as if it were their own.
Danny & Niki know they are not just building a home; they are building your family's dream one square foot at a time. Looking back upon our experience, we continue to reflect upon Danny's approach to our home. We often threw what we felt were some crazy ideas Danny's way. After a wry grin and perhaps some quick measurements scrawled, Danny would always say, "We can do that". It was never a burden that Danny wilted away from when implementing our desires, but rather he felt it was his responsibility to provide us everything we asked for and to do so within budget. In retrospect, selecting a builder was indeed a tough decision, and one that was made with a great deal of faith being conveyed upon Danny Guy and Second Generation Construction.
However, it was a process that generated so much excitement, wonderful working relationships and overall fun. It may be tough to believe, but we enjoyed building our home with Danny and if we ever decide to build another home we will happily bring him aboard again. Our home is always open to Danny and his prospective clients. Our home is a true testament of the talent and creativity that Danny and his team possess.``
To: Danny and Niki Guy
It is only fair to put into writing what I believe the world should know about you and your homebuilding skills. You are welcome to use this as an open letter and show to anyone you choose.
Judy and I have now lived in 11 different houses during our life together. Obviously, that is nothing to brag about as it almost identifies us as a pair of malcontents! All that said, we have had the opportunity to experience a huge variety in the quality of homes we have owned. I'll begin by simply saying nothing has even come close to the quality of the house you have constructed for us. The attention to detail that Danny brings to the process is far superior to anything we've experienced or even heard about. Most often, when talking to others about their building experience, the comments run from ``the cost overruns were enormous`` or ``they cut corners everywhere they could`` or ``the quality just isn't what we expected. Our comments couldn't be further from those as I've repeatedly told others that ``the quality exceeds our hopes and expectations``, ``the cost was completely contained within budget`` and ``there were absolutely no corners cut``.
We have spoken to numerous others who have built within our neighborhood and the surrounding areas and we couldn't be more pleased with the fact our entire building experience, from start to finish, was far superior to anything we have heard about. A comment made to me by one of the major subcontractors gave a sad picture of the state of the world, but made me feel most comfortable when he said ``Danny is the only builder I deal with where I don't have to supply two invoices – one the real one and the other to show the homeowner.`` I certainly can't verify that, but it gave me a monstrous level of confidence in my builder and substantiated my choice in choosing Danny.
Danny has an eye for construction that was invaluable to us throughout the building process. Despite the fact we were re-building a house that we owned in Texas, he was able to make suggestions that made so much sense and added greatly to the enjoyment of the finished product. Besides his ability to make wise decisions, he was consistently on site and was able to make certain that all the subcontractors performed up to our expectations. As with any project, there are some mistakes or errors made during the process, but Danny made certain everything was corrected in a timely fashion and the final results were always well above standard.
Niki provided us a complete list of invoices and a very professional monthly statement of profit and loss with comparison to budgeted items. Without that, we couldn't possibly have known our expenditures relative to budget as the dynamics were constantly changing with new or different choices in design, materials, and fixtures. Her help was invaluable throughout, from the paperwork to decorating suggestions to finding light fixtures.
Overall, I have to commend you both for virtually everything having to do with building our house. Thank you for you have done for us. Had I believed someone could be so good, I would have done it sooner. I wish the you very best in the future and feel certain with your work ethic you will always be the premier builder in the area.``